Temperature and humidity monitoring system for special warehouse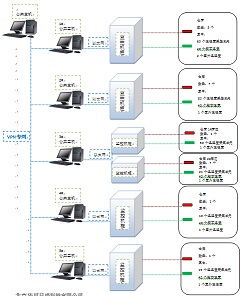 Product description:
; B; C; special warehouse temperature and humidity monitoring system
to establish a comprehensive monitoring and management platform, by means of industrial automation of scientific, advanced and modern, accurate, full use of the existing VPN network developed, the indoor environment temperature and humidity, the warehouse smoke box pile core temperature and outdoor environment the temperature and humidity monitoring, the operation parameters of continuous reading or acquisition, and in the equipment installation site and headquarters through the public host real-time read the scene data, so as to strengthen the real-time monitoring of the warehouse, improve the scientific management level of warehouse.
respectively in the warehouse, set up the library and outside the temperature and humidity sensors, set up temperature sensors in the library. In accordance with the size of the reservoir area, distance, the number of warehouses, the number of different units and the number of sensors, the installation of the corresponding number of monitoring cabinets at the warehouse site. Monitor the number of cabinets to achieve high integration, convenient wiring, easy maintenance and easy maintenance.
temperature and humidity data especially the humidity data is the key and important index system, in order to ensure accurate data, the system is efficient, reliable and stable, control cabinet integrated CPU as the core processor of the distributed I/O for acquisition mode and extension mode, to ensure the existing acquisition data, at the same time reservation control interface, not only can the real-time temperature and humidity data acquisition unit and each of the warehouse stacking. Collection and monitoring, to achieve the optimal performance and the optimal price, but also for the future expansion of the project system control function ready.
in order to ensure the reliability and stability of data transmission, using computer configuration software, real-time data transmission through the VPN line and the headquarters of the monitoring server, monitor cabinets around the warehouse is connected to the VPN network through the Ethernet, to achieve the company headquarters for all under the jurisdiction of the treasury management, and headquarters the warehouse data redundancy, so as to realize the environmental temperature and humidity on the target warehouse of high density and high precision temperature and humidity monitoring and data management.