RS485 digital temperature acquisition module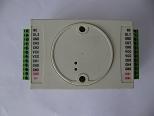 Product description:
Temperature measurement characteristics:
Supports the US DALLAS full range 1-wire bus digital temperature sensor;
Temperature measurement points: 1~64, 128, 256 points;
Temperature range: -55 ~ +125 DEG c;
Temperature measuring accuracy: + 0.5;
Temperature measurement resolution: 9~12 bits (0.0625 degrees Celsius).
Temperature measurement speed: > 40 points /s;
Support for measuring cable length: less than 200M;
Support sensors in two-wire or three wire connection mode;
Automatically identify the number of sensors, ID automatic sorting.
Communication characteristics:
RS485
Power requirements:
12V/24V/48V input (external, optional).
Work environment:
Module operating temperature: -25 ~ 85 DEG C.
Description:
The module adopts the latest technology, supports the American DALLAS series of 1-wire bus digital temperature sensors, and supports "two lines" or "three lines" in two ways, so that users are more convenient to use. Each module can connect seven temperature measuring cables, each cable can be installed up to 64 temperature points. The module automatically detects the number of sensors, and the ID automatically sorts. Real time refresh data buffer.
Typical applications:
Cold storage, temperature measuring concrete monitoring equipment, cabinet temperature measurement, air conditioning testing line, building automation, etc..