RS485 rail type temperature transmitter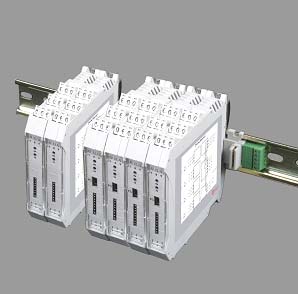 Product description:
; RS485 rail type temperature transmitter
HX-RS-DBW4501 series RS485 rail temperature transmitter converts the signals into digital signals in industrial field, in accordance with the standard MODBUS protocol, the RS485 communication mode, the digital signal is provided to DCS or PLC, the PC control device or acquisition device.
1 way universal signal input, 1 way RS485 output, 1 current signal output, standard MODBUS communication protocol.
| low temperature drift, automatic zero calibration between the /
| input signal communication / complete separation of power
| current input overcurrent protection (about 30mA)
| input
| input circuit power reverse protection
| backplane communication line redundancy connection
| support backplane redundant power supply connection
| low power design of
| communication code rate as high as 38400
| drive capability; a pair of twisted pair can support 128 nodes
Input type: universal input.
thermocouple (K, E, S, B, R, J, T, N),
thermal resistance (PT100, PT200, PT500, PT1000, Cu50),
resistor (0~400, 0~4000), mV (-80 ~ +80mV).
input channel 1
communication interface RS485
drive capability is less than or equal to 128 nodes
communication rate 384000, 19200, 9600, 4800
address range 1 ~ 64
power supply voltage 24VDC + 10%
response time (0-90%, 100%-10%) Q 0.4S
0.1%
(24VDC) power precision + Q 0.5W
+ 0.01%/ C
temperature drift temperature -40 ~ 85 C
Q95% RH (non condensing humidity)
between the input power output terminals between input and output voltage of R2500VAC:1min
power supply terminal R100M resistor /500V
test and calibration of temperature 25 - 2 DEG C
terminal line maximum size of 2.5 mm² the
terminal torque 0.5Nm
protection grade: shell / terminal IP50/IP20
weight 150g
LED indicates Changliang said electricity and normal flash digital communication.
size 113 x 109 x 17.5mm
installation DIN35 standard rail installation
standard EN61326:1997+A1:1998+A2:2001+A3:2003 is