Multi loop display controller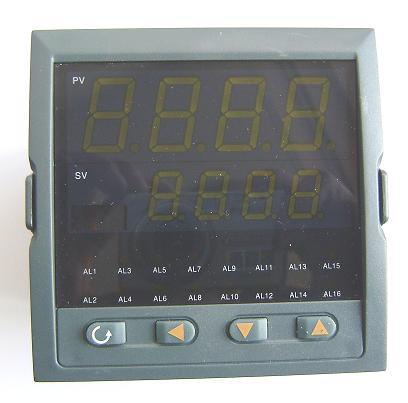 Product description:
multi loop display control instrument
Multi loop display control instrument for on-site temperature, pressure, liquid level and speed of signal acquisition, display, control, transmission, communication, printing and other processing, a digital acquisition system and control system, multi loop display system to multi measuring point detection instrument for control circuit.
* dual LED digital display, PV display measurements, SV displays the current channel number.
capable to inspect 8 ~ 16 measurement signals, each input channel measurement signals do not interfere with each other.
* multi loop display control instrument with 36 signal input function, each channel can simultaneously input signals of different types; 0.2% level measuring accuracy.
* alarm can choose 8 or 16 "unified alarm output" and "16 road alarm output", "unified alarm output" by setting can be selected with memory without memory alarm and alarm function parameters, instrument panel with LED alarm indicator.
* multi loop display control instrument transmission output mode can choose the "unified transmission output" and "8 road transmission output, according to the specified input channel sampled value transmission, unified transmission, sixteen sampling value weighted average transmission" "Sixteen input maximum transmission" and "Sixteen input minimum transmission".
* the instrument data refresh cycle for 2 seconds /16 road.
* supports RS485, RS232 serial interface, using standard MODBUS RTU communication protocol.
* instrument with RS232C printing, printing, printing, manual timing alarm function.
* DC24V feed output, as the transmitter site distribution.
* input and output, power supply, communication between each other by photoelectric isolation technology.
* parameter setting password lock, parameter setting off permanently preserved, with parameter restore factory setting function.