Temperature and humidity control cabinet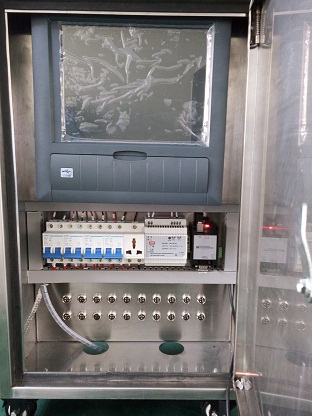 Product description:
; C; C; C; temperature and humidity control cabinet
HX-RS-WS4000 series of temperature and humidity control cabinet, is according to the customer request custom integrated intelligent paperless recorder display equipment, collection, transmission, display, storage, field recording, printing has the function of temperature and humidity.
HX-RS-WS4000 series of temperature and humidity control cabinet, shared 40 channels, which can be connected to the 20 road surface humidity transmitter, which has 20 channel 20 channel temperature, humidity.
(I) performance:
1., sensor isolation, power distribution output, relay alarm output, variable output, flow accumulation, temperature and pressure compensation, historical data transfer, print and remote communication function.
2. 10.4 British disease potential pinch me Hao Yun Jing and LED backlight, clear picture, wide viewing angle; picture response time less than 0.2 seconds, can achieve 40 signals detection, record, display and alarm;
Large capacity FLASH flash memory chips store historical data, power down, never lose data;
3., the volume of engineering shows a wide range of values, can display 5 bit value: -9999, ~19999;
4. Chinese menu configuration, display engineering bit number, engineering unit.
5. alarm display, at the same time to indicate the lower and lower limit of the channel, the upper limit, the upper limit alarm. The latest 15 alarm messages can be recorded;
6. use the USB2.0 interface to save and backup history, support 256M, 512M, IG;
7. standard serial communication interface: RS-485 and RS-232; standard Modbus RTU communication protocol.
8. can be connected with micro printer, support manual printing, regular automatic printing, to meet the needs of the user on-site printing;
9. integrated hardware real-time clock, power down, the clock can also run accurately;
10. provide 8 hour classes reported 12 hours daily, daily report, monthly report, recording interval: 1S.
(two) configuration:
1.40 channel recorder, display: 10.4 inch LCD screen;
2. transmitter: model HX-RS-WS4201, 20 units;
3. temperature and humidity sensor:
Humidity range: 0 ~ 100%RH;
Range of temperature: -40 ~ +120 DEG c;
Accuracy: humidity 5.0%RH, temperature + 0.5;
4. control cabinet size: 600*400*300mm; stainless steel SUS304;
5. power supply: 220VAC;
6. communication interface: RS-485 or USB, USB mode can be chosen according to requirements, or RS485 communication mode can be selected.
7. installation and mobile control cabinet with both sides can hand clasping, bottom with self-locking rubber, and also can use special hooks to hang on the wall.
8. instrument weight: about 25Kg.