Indoor temperature and humidity monitoring system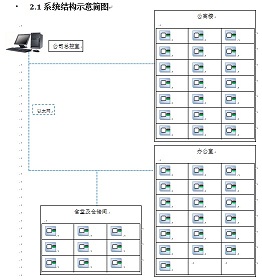 Product description:
; ; indoor environment temperature and humidity monitoring system
to establish a comprehensive monitoring and management platform, by means of automation, full use of the existing Ethernet network, monitoring under the jurisdiction of the apartment, office, canteen and storage between the indoor temperature and humidity of the environment, realize the operation parameters of continuous reading or acquisition, and can the company's monitoring room through the public host real-time read the scene data collected, at the same time to display to display, thus speeding up the service response time, improve work efficiency, improve the company's management and service level.
according to design requirements, each room in the apartment building, office, dining room, storage room, set the environmental temperature and humidity sensors, each room to install a digital temperature and humidity sensor.
the need to monitor the overall area is 3, 1 apartment buildings, 1 office building, 1 dining rooms, apartment buildings, a total of 22 rooms, a total of 20 office rooms, dining rooms, in addition storage between a certain number of rooms. The digital temperature and humidity sensor is directly connected to the router in the room and transfers data to the general control room of the company through ethernet. Temperature and humidity sensor with liquid crystal display, temperature and humidity data in each room can be observed in this room, at the same time in the total control room temperature and humidity through the computer can observe each area of each room, if the temperature and humidity of the overrun alarm system, the software will in general control room host with flashing lights, digital color or sound etc.. At the same time, the main control room can be set up in the lobby to display the temperature and humidity data of each room monitored.