Button type temperature recording body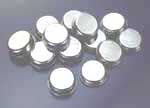 Product description:
Thermochron® iButton&reg is a rugged autonomous system that measures temperature and records results in a protected memory cell. It records temperature at a user defined rate, including direct temperature values and histograms. The device can store temperatures up to 2048 equal intervals (ranging from 1 to 255 minutes). If the temperature is beyond the user's range, the time of occurrence, the temperature, the time outside the allowable range, and whether the temperature is too high or too low will be recorded. There are also 512 bytes of read / write non-volatile memory that can be used to store relevant information about the attached object. The 64 bit registration number written into the chip by laser lithography is used to ensure its absolute traceability.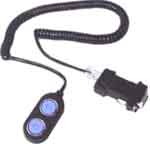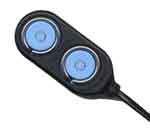 Key characteristics
Small size: diameter Phi 16mm, thickness 4mm stainless steel enclosure.
No external power supply: built in batteries, battery life, depending on the frequency of acquisition up to several years.
Temperature measurement accuracy: to 0.5 degrees C resolution temperature measurement, in -30 degrees C to +70 degrees C range, accuracy remained 1 degrees C.
Auto wake and measure temperature: automatically wake up and measure temperature according to user's interval (1 to 255 minutes), and can carry the latest information with people or target objects to any place.
Built in real-time clock and timer: in the temperature range of 0 degrees C to 45 degrees C, with a precision of + 2 minutes per month.
Data storage: record up to 2048 continuous temperature measurements in protected nonvolatile (NV) memory. Universal read / write non-volatile memory with 512 bytes.
Off the line alarm: programmable high temperature and low temperature alarm threshold, when the temperature exceeds the threshold specified range, you can record up to 24 times mark and duration
Easy to read data: the use of simple reader, touch that can be 15.4kbps or 125kbps rate directly communicate with the host.
Data export and print: software interface is friendly, temperature record data, curve can be exported in Excel form or printed directly.
Durable: steel shell, dustproof, moisture-proof, shock resistant, can withstand indoor and outdoor harsh environment, life for many years.
Easy to use: direct or through attachments, almost mounted on any object, including containers, pallets, and bags. The utility model is suitable for monitoring any object that is attached or transported together, such as a container for perishable goods or for depositing chemicals that are temperature sensitive.