&nbsp 0.1% high precision NTC negative temperature coefficient thermistor temperature sensor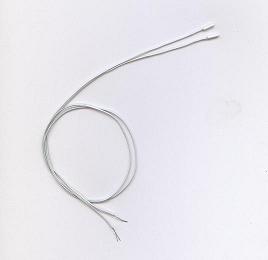 Product Description:
0.1% 、 high precision NTC negative temperature coefficient thermistor temperature sensor
A thermistor is a resistive element, i.e., a resistor whose resistance varies with temperature. It is generally divided into two basic types: negative temperature coefficient thermal resistance (NTC) and positive temperature coefficient thermistor (PTC). The NTC thermistor exhibits a decrease in its resistance with increasing temperature, whereas the PTC thermistor is the reverse. These two thermistors have particular characteristics and advantages, so they should be used in different fields.
NTC thermistor generally consists of two or more transition metal oxides mixed in a specific proportion, formed by sintering at high temperature. It belongs to an electronic ceramic material. Can be classified according to electrical parameters (resistance, material constant B), temperature measurement accuracy, packaging forms and application areas.
The company's latest 0.1% high-precision NTC thermistor temperature sensor has the following characteristics:
1, high precision: temperature measuring accuracy ± 0.10 degrees centigrade;
2, good stability: annual stability of ≤ 0.1%;
3, interchangeability is high: resistance value swap accuracy up to ± 0.1%;
4, small size: beads sealing size is generally not greater than 2mm;
5, applicable to a wide range of high precision NTC negative temperature coefficient thermistor and temperature sensor for -50 to 105 DEG C, at present a large number of products and used in the following industries: civil air conditioning temperature measurement and control, central air-conditioning, commercial air conditioning, automobile air conditioning temperature control, refrigerator freezer, washing machine, water heater device, low temperature freezing and refrigerating system, fire alarm, food storage, vegetable greenhouse temperature control, industrial automatic control, construction etc.. Temperature transmitter, digital thermometer, multi-point thermometer, automobile air conditioning controller and other high-precision temperature and density instruments and equipment.
Selection of NTC thermistor
1, purchase methods
1.1. uses /Applications: temperature measurement, temperature records, temperature compensation, temperature control and other
1.2. /Surroundings:: the use of the environment in the air, water, moisture, pH and other environmental
1.3. using the temperature range of /Temperature range: C ~
1.4. /Resistance:&nbsp the resistance value; KΩ ± /at% in
The value of 1.5.B /B value (25 /50 OC):
1.6. package /Sealing form:
1.7. /Type:MF5E- &nbsp &nbsp model requirements;; (resistance number /R25) (/B B) (package No. /Sealing form);
1.8. other requirements /Others:
1.9. additional dimension sketch /Additional, drawing, of, component.
2, selection notes
2.1. After 5&tau, (seconds), preferably 7τ (seconds) above the time at which to begin measurement.
2.2 、 the use of thermistor components on the circuit will cause the heating of the component itself to produce the deviation of temperature measurement. This factor should be taken into full consideration when selecting the components.
2.3, in order to prevent the thermistor components too fast aging, in use should avoid rapid temperature changes.
2.4, through the components of the current over assembly damage components, use should avoid bad circuit insulation, static induction, wrong wiring and other mistakes.
2.5, users should be based on their temperature requirements, the use of different precision thermistor components.
2.6, thermistor components should be away from other internal heating parts, otherwise, it is easy to cause temperature error, or even equipment failure.
2.7, welcome to the thermistor components and sensors installation forms, such as: crimping, support, clamping, insertion, etc., and my company to explore, in order to prevent equipment damage caused by poor installation.